Pure Deal - $10 Mat/Tower Class
Pure Deal $10 Mat/Tower Class! Meet our teacher-in-training as they perfect their teaching practice in group Mat/Tower classes. These sessions are a learning opportunity for students and teachers alike so bring an open mind and the desire to learn to each workout.
This class is taught by:
Patti
Miller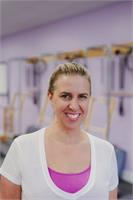 Apprentice
Patti Miller was born in Yonkers, NY. In her early years she was involved with dance and track & field. Her family moved to Coconut Creek in 1981 and she has lived in South Florida ever since. While attending college to study accounting she worked as a group fitness instructor. Patti loved working with people and improving their health so she switched her major to Exercise Science. Lighthouse Point Yacht and Raquet Club hired her to run their fitness program for seven years. After taking time off to raise her children, Patti found her way back to teaching water aerobics, personal training and other group fitness classes. She is certified with the Fitness Institute in Strength and Conditioning, Functional Fitness and Fitness Testing.
During the summer of 2017, Patti was introduced to Pilates while in physical therapy for scoliosis. The strength and pain relief led her to Pure Pilates to continue on with a classical & comprehensive Pilates training. Being a natural teacher, with the desire to help others improve their quality of life, she enrolled for the 2018 RPTT program.
Erica
Breitenstein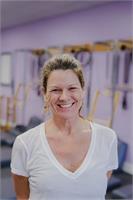 Apprentice
A Florida native with a New York City heart, Erica moved to Manhattan after graduating from UCF to begin her career in advertising. While her "day job" kept her busy on Madison Avenue, Erica remained devoted to the pursuit of fitness that began in adolescence. Erica's earliest fitness regime included Nautilus Super Slow Training, aerobic dance and step aerobics. Later she spent a decade focusing on body sculpting and aerobic mat classes combined with weight training. Erica's transitional yoga practice began in earnest in 2011. No matter what program Erica is following, the one constant has always been running—whether it's a quick three miles or a leisurely six mile jog—she loves the runner's high she almost always gets.
In 2015, upon relocating to Fort Lauderdale, chronic lower back pain that had been bearable for years was finally too intense to ignore. The pain kept Erica from pursuing any real activity, including getting on the floor to play with her then three-year-old son. After several MRIs, countless visits to various chiropractors, physical therapy and visits to orthopedic specialists, Erica's trusted orthopedic surgeon, as well as her professional yogi sister and her well-informed mother, all urged Erica to take up Pilates. Based on their collective experience, she knew she had to find a Pilates practitioner and find her fast. Erica met Karen Winselmann in the fall of 2016 and the rest is history.
"When I leave the Pilates studio, I feel like I can do anything. My mind and body are strong and in line with my spirit. I take with me a positive energy that I'm told radiates from me. This is a feeling I want to share."
After a year of intense training with Karen, Erica decided to make Pilates an even bigger part of her life and began the Real Pilates Teacher Training Program in February 2018.
"When something seems to good to be true, I absolutely cannot leave it alone. Pilates was no exception. The precision and thoughtfulness of each exercise make every workout engaging and interesting. Every day I look forward to learning more about each detail. And being able to teach Pilates and demonstrate to others that it's not too good to be true, will be the icing on the cake!"
Katarina
Durisova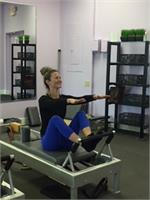 Apprentice
Katarina was born and raised in Slovakia. Being land locked all her childhood, she wanted to discover and travel counties surrounded by water and warm weather. At eighteen years of age, she left for London, England where she was a resident for 15 years! The city became too small for her and soon she was driven by the hunger of seeing much more. She moved to Bermuda followed by the Cayman Islands. Katarina graduated from London Metropolitan University with a degree in clinical psychology. Although she helped a lot of people to over come their addictions she pursuit her profession in the hospitality field instead. Working in fine dining restaurants she had the opportunity to live in different countries and islands. Certified open water diver and a cave diver she dove many wrecks and beautiful reefs, with different and interesting people. She first fell in love with pilates in London where she casually practiced, but it wasn't till she moved to Florida, where she found the true passion. Being a psycho-therapist she believes that mind and the body need balance to live in harmony, everything else naturally follows.
Upcoming classes:
Thursday, Oct 18
6:30 pm - 7:30 pm
with
Patti
Miller
Saturday, Oct 20
11:00 am - 12:00 pm
with
Erica
Breitenstein
Wednesday, Oct 24
12:00 pm - 1:00 pm
with
Erica
Breitenstein
Thursday, Oct 25
6:30 pm - 7:30 pm
with
Patti
Miller
Saturday, Oct 27
11:00 am - 12:00 pm
with
Patti
Miller
Wednesday, Oct 31
12:00 pm - 1:00 pm
with
Erica
Breitenstein
Thursday, Nov 1
6:30 pm - 7:30 pm
with
Patti
Miller
Saturday, Nov 3
11:00 am - 12:00 pm
with
Katarina
Durisova
Wednesday, Nov 7
12:00 pm - 1:00 pm
with
Erica
Breitenstein
Thursday, Nov 8
6:30 pm - 7:30 pm
with
Patti
Miller
Saturday, Nov 10
11:00 am - 12:00 pm
with
Katarina
Durisova
Wednesday, Nov 14
12:00 pm - 1:00 pm
with
Erica
Breitenstein
Thursday, Nov 15
6:30 pm - 7:30 pm
with
Patti
Miller
Saturday, Nov 17
11:00 am - 12:00 pm
with
Katarina
Durisova
Wednesday, Nov 21
12:00 pm - 1:00 pm
with
Erica
Breitenstein
Saturday, Nov 24
11:00 am - 12:00 pm
with
Katarina
Durisova