Avél Juliette HM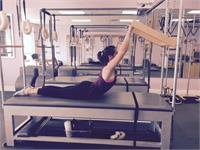 Instructor
Avél Juliette was born and raised in South Florida, although was blessed to call New York City home for almost 6 years. An actor and hospitality specialist, Avél experienced an enriching variety of endeavors while in NYC, including a position as Studio Coordinator for a boutique Pilates studio, Park East Pilates, on Madison Ave. Being introduced to Classical Pilates methodologies made her a true believer. Its ability to lengthen, strengthen and empower your body and mind is unlike anything else she has ever experienced. Gaining the opportunity to be Studio Coordinator at Pure Pilates is exactly where she wants to be in her life. Avél has since undergone a huge transformation by joining the Real Pilates Teacher Training Program here at Pure Pilates -- graduating in January, 2017. She is excited for the future and is looking forward to a successful partnership with Karen and her beautiful studio!
Avél Juliette HM instructs the following:
This Mat/Tower class uses the basic Pilates exercise vocabulary in a well-rounded workout to train coordination, centering, breath, control, and concentration. Students will learn new exercises, add resistance work with springs, expand the Pilates vocabulary, and become better at performing the Pilates movements with flow.