Dylan Thomas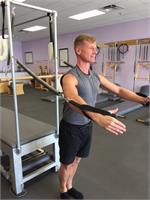 Instructor
Dylan Thomas is a former bookworm who discovered the joy of Pilates and never looked back. Although he is still working to build his elusive Powerhouse, he can now sit up straight, roll like a ball, hang like a squirrel, and perform a great variety of movements that make him feel strong, alive, grounded, and present. Also a licensed massage therapist, Dylan meets lots of people who experience daily aches as well as chronic pain and stress. He knows Pilates can help, and that's why he became a teacher. Dylan was originally certified in 2012 in Miami, Florida, by his mentor, Anna Alvarez, who introduced him to the breadth of the method and its ability to change bodies and lives. In 2015, he recertified with his second mentor, Dorothee VandeWalle, who helped him deepen his understanding of classical Pilates and to more keenly appreciate its grace, rigor, and athleticism. Now, Dylan continues to study under the eagle eyes of Karen Winselmann at Pure Pilates. He is honored to have been invited to teach at her studio, where he can put the method to work to help clients experience the happiness that comes from moving Pilates-style with strength, flexibility, and control.
Dylan Thomas instructs the following:
This Mat/Tower class uses the basic Pilates exercise vocabulary in a well-rounded workout to train coordination, centering, breath, control, and concentration. Students will learn new exercises, add resistance work with springs, expand the Pilates vocabulary, and become better at performing the Pilates movements with flow.