Lynn Torrent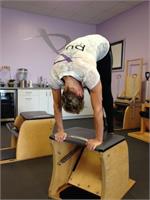 Instructor
Lynn Torrent is originally from NY but has called South Florida home for 25 years. Married for 3 decades and a devoted mother to two happy kitties (15 and 16 years young), Lynn has always believed in hard work. Her love affair with Pilates started about 10 years ago, deciding to finally take the relationship to the next level by joining the Real Pilates Teacher Training (RPTT) Program. "Believe me, I did my research. I have taken sessions all over South Florida and this is exactly what I'm looking for in a comprehensive certification program. I fully believe in 'One Body, One Mind' so we better be good to them!" Lynn graduated from the RPTT program in January, 2017 and is excited to share what she has learned with her clients at Pure Pilates.
Lynn Torrent instructs the following:
This Mat/Tower class uses the basic Pilates exercise vocabulary in a well-rounded workout to train coordination, centering, breath, control, and concentration. Students will learn new exercises, add resistance work with springs, expand the Pilates vocabulary, and become better at performing the Pilates movements with flow.