Tracy Belcher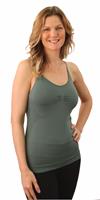 Apprentice
Tracy Belcher is a Miami-based instructor who first found Pilates while working as a busy marketing and communications professional. She held corporate positions in strategic communications, PR and marketing for more than 12 years. During this time, she maintained a healthy body and sound mind through her dedicated Pilates practice, and began training to become a Pilates teacher in 2012 through Polestar Pilates. She fell in love with teaching and sharing the benefits of the practice, and began working part-time as a teacher. Tracy went on to obtain certification through
Pilates Method Alliance® and Franklin Method®
, turning her passion for Pilates into her primary focus and commitment.
Tracy's teaching style is based on Joseph Pilates' original principles and "Whole Body Health" philosophy, but combined with today's scientific understanding of anatomy, physiology, biomechanics and motor control, and scientific research findings in the areas of orthopedics, sports medicine and movement science.
In January, 2017, Tracy decided to deepen her understanding of the Classical Method by joining the 3rd cycle of the Real Pilates Teacher Training Program at Pure Pilates. She is excited to take what she learns through this program and weave it into her already thoughtful and individualized approach; helping her clients achieve long-term goals, integrating the mind, body and spirit with an overall enhanced quality of life.
Tracy Belcher is currently not instructing any classes.