Pure Deal - $10 Mat/Tower Class
This class is taught by: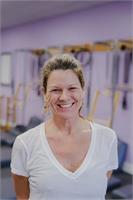 Apprentice
A Florida native with a New York City heart, Erica moved to Manhattan after graduating from UCF to begin her career in advertising. While her "day job" kept her busy on Madison Avenue, Erica remained devoted to the pursuit of fitness that began in adolescence. Erica's earliest fitness regime included Nautilus Super Slow Training, aerobic dance and step aerobics. Later she spent a decade focusing on body sculpting and aerobic mat classes combined with weight training. Erica's transitional yoga practice began in earnest in 2011. No matter what program Erica is following, the one constant has always been running—whether it's a quick three miles or a leisurely six mile jog—she loves the runner's high she almost always gets.
In 2015, upon relocating to Fort Lauderdale, chronic lower back pain that had been bearable for years was finally too intense to ignore. The pain kept Erica from pursuing any real activity, including getting on the floor to play with her then three-year-old son. After several MRIs, countless visits to various chiropractors, physical therapy and visits to orthopedic specialists, Erica's trusted orthopedic surgeon, as well as her professional yogi sister and her well-informed mother, all urged Erica to take up Pilates. Based on their collective experience, she knew she had to find a Pilates practitioner and find her fast. Erica met Karen Winselmann in the fall of 2016 and the rest is history.
"When I leave the Pilates studio, I feel like I can do anything. My mind and body are strong and in line with my spirit. I take with me a positive energy that I'm told radiates from me. This is a feeling I want to share."
After a year of intense training with Karen, Erica decided to make Pilates an even bigger part of her life and began the Real Pilates Teacher Training Program in February 2018.
"When something seems to good to be true, I absolutely cannot leave it alone. Pilates was no exception. The precision and thoughtfulness of each exercise make every workout engaging and interesting. Every day I look forward to learning more about each detail. And being able to teach Pilates and demonstrate to others that it's not too good to be true, will be the icing on the cake!"
Pure Deal $10 Mat/Tower Class! Meet our teacher-in-training as they perfect their teaching practice in group Mat/Tower classes. These sessions are a learning opportunity for students and teachers alike so bring an open mind and the desire to learn to each workout.
Upcoming classes:
Pure Pilates
6294 N. FEDERAL HIGHWAY FORT LAUDERDALE, Fl 33308
Phone:
954.804.8450
Pilates Classes
Rated 5/5 based on 16 reviews