Patti Miller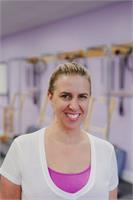 Instructor
Patti Miller was born in Yonkers, NY. In her early years she was involved with dance and track & field. Her family moved to Coconut Creek in 1981 and she has lived in South Florida ever since. While attending college to study accounting she worked as a group fitness instructor. Patti loved working with people and improving their health so she switched her major to Exercise Science. Lighthouse Point Yacht and Raquet Club hired her to run their fitness program for seven years. After taking time off to raise her children, Patti found her way back to teaching water aerobics, personal training and other group fitness classes. She is certified with the Fitness Institute in Strength and Conditioning, Functional Fitness and Fitness Testing.
During the summer of 2017, Patti was introduced to Pilates while in physical therapy for scoliosis. The strength and pain relief led her to Pure Pilates to continue on with a classical & comprehensive Pilates training. Being a natural teacher, with the desire to help others improve their quality of life, she enrolled for the 2018 RPTT program.
Patti Miller is currently not instructing any classes.